Madchicken
Current Version: 1.0.0
DESCRIPTION
MadChicken is a Joomla! template designed for Joomla 1.5.
MadChicken was specially designed for fast-food businesses, but you may use it also for restaurant projects.
COLORS
It comes in two already built-in flavors:
Red, Orange and Yellow.
Red, Green and Light Brown.
Unlimited background colors.
You can set unlimited background colors from the backend of the Gantry Framework.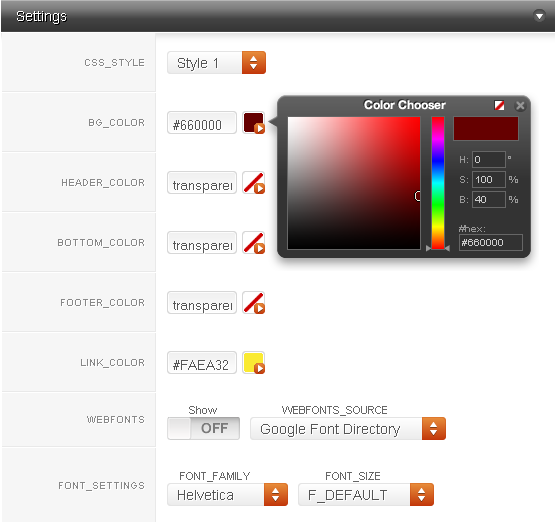 SCREEN RESOLUTION
Wide = min-width: 1020px
MadChicken was built on the 960 grid system with a width of 1020px.
FONTS
For the headings we used the Droid Sans font.
You may download this font here:
http://www.fontsquirrel.com/fonts/Droid-Sans
For the body and rest of the text we used the Arial font.
STYLES
If the 2 provided styles are not enough for you, than you may build your own customized styles using the layered psd files and the preset feature from the template admin interface.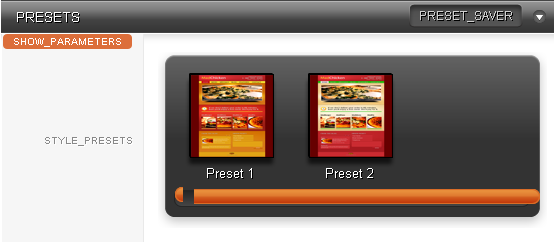 IPHONE AND IPOD
iPhone and iPod Touch mobile autotheme support.
GZIPPER
MadChicken has a built-in Gantry plugin called RokGZipper to compress and combine Gantry JS and CSS files. This plugin will make your files much smaller in size and the website much lighter in loading time.

CLEANER CODE
Cleaner more understandable index.php file. All the complicated bits are handled for you in the Gantry core, that means that all the hard coding is in the Gantry component, so if you need a file to make some changes to it, just copy it, in the template folder and make the necessary changes. In this way the file that you want to change will get overwrite by the one that you had changed and copy in the template folder.
6 MODULES IN ONE ROW
Though MadChicken doesn't use all the modules included in the Gantry framework you can use 6 customized modules in one row on header and footer. If you want to use the other ones that are not customized for MadChicken you may customized it yourself using the layered psd and the built-in features of Gantry framework.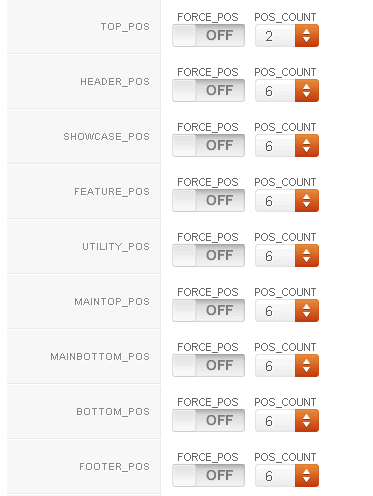 65 BASE MODULE POSITIONS
65 base module positions in the Gantry core. These can be easily extended to add more.Gantry has 65 modules positions. MadChicken doesn't make use of all. But if you want to use all the modules you may customized yourself. It's easy and it only takes 5 minutes, maybe less.
36 POSSIBLE COMBINATIONS FOR THE LAYOUT OF THE MAINBODY/SIDEBARS ALONE!
From the backend of the template you may change the layout to suit your needs with just one drag of a slider or push of a button. More easy than this I don't think you'll get.
GRID SIZE LAYOUTS
Flexibility to configure different grid-size layouts based on number of published modules. You are not forced to use the same grid layout for every page.
FONT-SIZER, TO-TOP SLIDER AND MORE
12 built-in Gantry Features like Logo, font-sizer, to-top smooth slider. Easily create your own to add more functionality with little coding required.
FORCE MODULE DISPLAY AND BLANK MODULE POSITIONS
Ability to force module display and 'blank' module positions for advanced module placement ability.
EASY TO USE ADMIN INTERFACE
Stunning Admin interface providing better usability and control. You can customize the template with new features without knowing how to program, because of the awesome admin interface that it's so easy to use with one touch of a button or with one drag of a slider bar.
UNIQUE LAYOUT CONTROLS
Unique Layout controls allow you to configure your layout without having to do math or ever create a 'broken' layout. You can choose from the admin interface with just one drag of a slider bar how do you want the template to be displayed. You may choose from a lot of unlimited combinations. Layout controls provide visual representation of your front-end layout for simple and intuitive customization.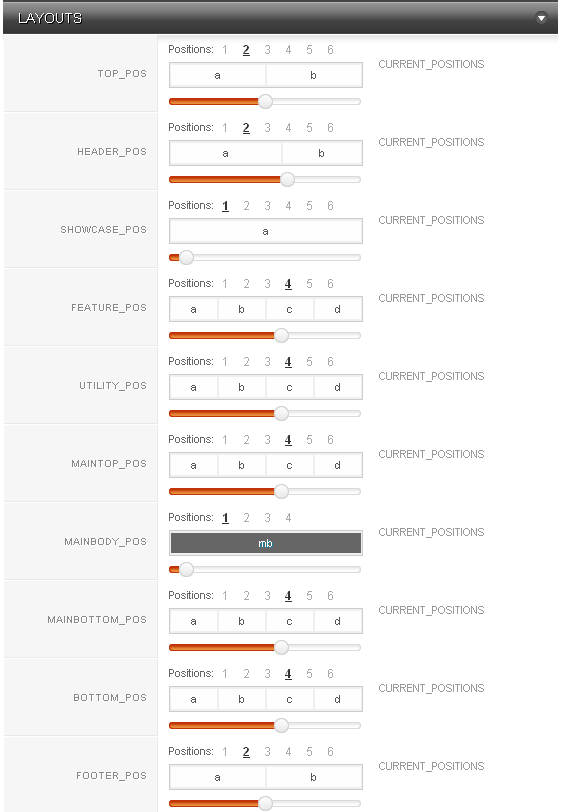 ADDING NEW MODULES
The template is XML driven, adding another row of completely flexible module positions is as simple as editing one XML file. If you want to add a new module position or an entire row of modules you may do it just adding a line in the XML file.
NEW STYLES(NEW PRESETS)
The flexible parameter system of the template allows loading preset theme attributes and modifying for a custom design. Also support session and cookie level overriding for development. If you decide that MadChicken styles are not enough then you may build your own style(preset). After you build it, you may save it from the admin interface and with one click change it whenever you want. You will not loose anything from the already built presets. You may restable the default presets of MadChicken with one click from the admin interface.
TABLE-LESS HTML
Couldn't be more beautiful than this, the layout of the template is table-less, that means everything is pure HTML and CSS. We didn't forget about the new CSS3, so you'll find some features based on it.
TYPOGRAPHY
Standard typography and Joomla core elements styling.
CACHE SYSTEM
Advanced caching system makes the template really fast!
PARAMS.INI BUILD FOR SPEED
All configuration state is stored in params.ini and cached for speed.
OPTIMIZE CODE
Optimized codebase with speed, size, and reuse core tenants of the framework design <!– Title Top & Image Below –>.
DOCUMENTATION
19 pages of documentation that includes how to setup the template step by step.
Designed by the SanaaThemes.com and powered by Gantry Framework.
Version: 2.0.0

Updated Widgetkit to latest version. Updated Warp framework to latest version.
Need Theme Support? Don't Worry We Got You Covered!